From wiki:
Black Friday is the day following Thanksgiving Day in the United States, traditionally the beginning of the Christmas shopping season. On this day, most major retailers open extremely early, often at 4 a.m., or earlier, and offer promotional sales to kick off the shopping season, similar to Boxing Day sales in many Commonwealth Nations.
From Reuters:
U.S. retailers racked up a record $52.4 billion in sales over the Thanksgiving weekend, a 16.4 percent jump from a year ago.
Overall, a record 226 million shoppers visited stores or online shopping sites from Thursday through Sunday, up from 212 million last year.
The number of shoppers and the amount of spending surprised analysts who had expected sales to be tempered by a 9 percent unemployment rate, high costs for gasoline and concerns about fiscal uncertainty in Europe.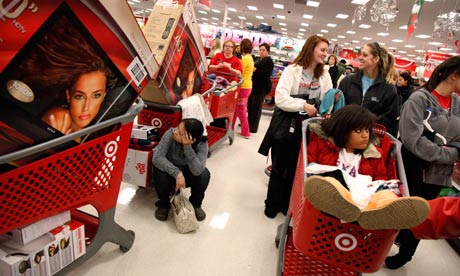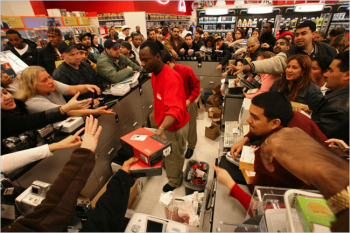 Comments on Yahoo news :
"Who Won the Black Friday Bonanza?"
People who stayed home, played with their kids, had fun playing touch football with the nieces and nephews, had torrid sex with their significant others, washed their cars, cleaned their living rooms, cooked, napped, or otherwise realized the opportunity cost of their time was worth far more than a few bucks on some meaningless trinkets.
Lets see who won, the people that were sprayed with pepper spray by a consumer wanting a $2.97 waffle iron, the man thrown to the ground by store security for trying to hide his grandsons gift, (note :::the grandfather was buying his grandson his Christmas gift (the grandson was present) and because he would not give it up to the others tugging on him to get it away from him slipped under his jacket , and then one of the so called consumers yelled he was shoplifiting the item then store security threw the man to the ground and caused serious head injuries to this poor fellow. (this will be a Christmas his grandson will remember). I think the real winner on black friday was the fellow that was stabbed in the parking lot of Walmart and robbed for all his black friday savings. I am sure there are more stories, Christmas is a time of joy and good will, but things like black friday has turned people into animals to save a buck. Who wins?
Who really won Black Friday? The owners of the factories in the countries that produced the goods that we bought! Another huge drain on our currency at more billions go abroad.
The typical American consumer is ignorant. Standing in line fighting crowds to by some cheap piece of crap made in China. China and the big corporations are the only winners. Wake up AMERICA, refuse to buy anything made in China unless you absolutely have to have it and cant find it made anywhere else.
To all you Black Friday and weekend shoppers.
China thanks you.
Hahahahahaha.... gumbira orang China. Last-last depa yang kaya.
Bukan US saja, mana-mana negara pon kan...
konon tengah economic recession, inflasi, pengangguran...
tapi bila mai tang shoppingggg... semua orang tiba-tiba jadi banyak duhet eh!
Dengar citer, on that day iPAD2 buleh dapat rega RM500 weiii
Ni yang buat aku nak migrate ke Manhattan nihhh...
Manhattan kau, tak hagak-hagak! kahkahkah!
Sourced from Yahoo, Wiki and Google.